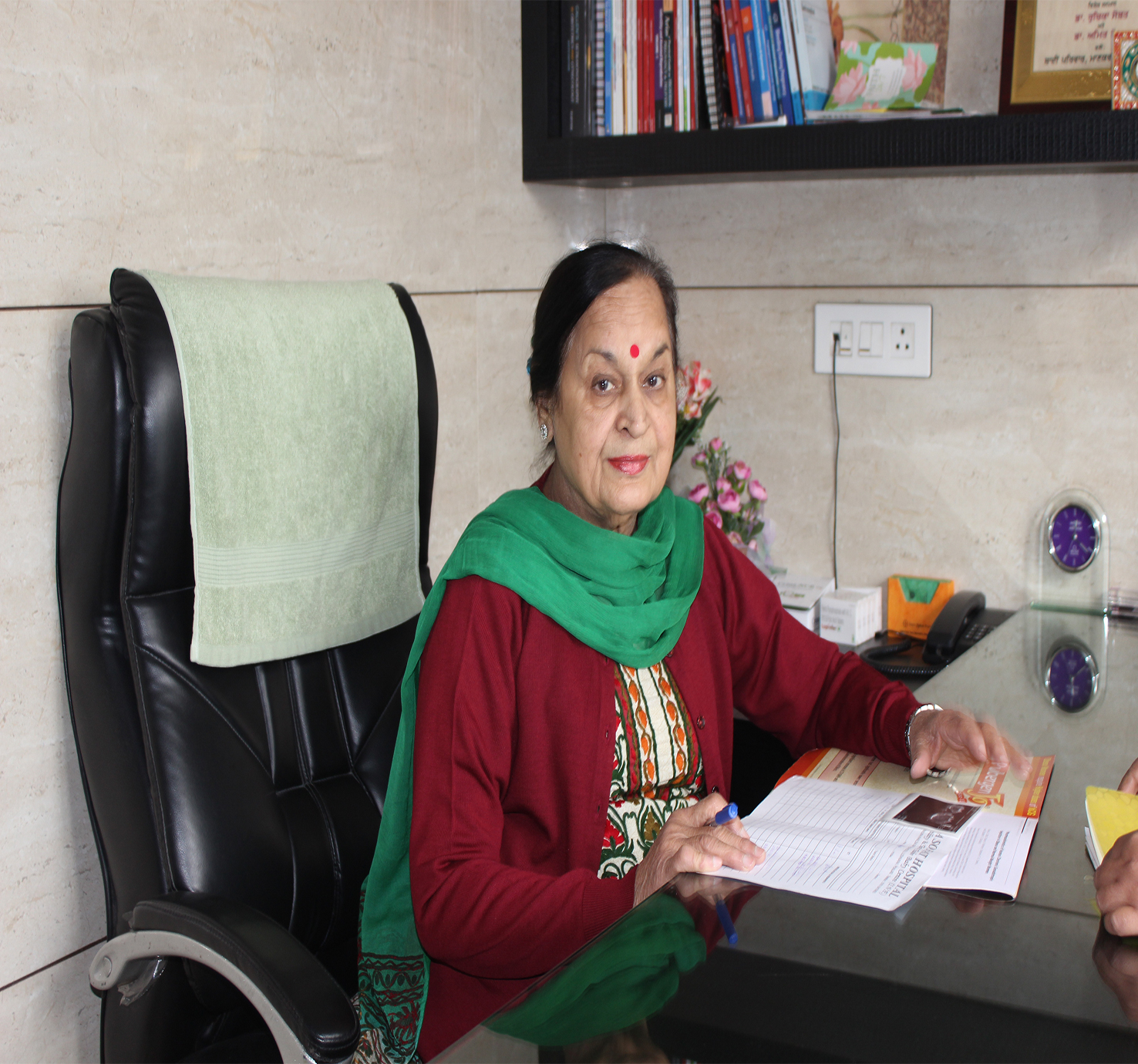 Dr. (Mrs.) Rama Sofat
(MBBS, MD, MNAMS, FICOG)
Dr.RAMA SOFAT
(MBBS, MD, MNAMS, FICOG)
Dr. (Mrs) Rama Sofat as on today is one of the senior most gynaecologists in the town and is very actively involved in pursuing her profession day in and day out.
She retired as professor and head of the department of obstetrics and gynaecology from Dayanand medical college & hospital after putting in 30 years of meritorious and selfless service.
She has had a very distinguished academic and professionally excellent career both at the undergraduate level at Amritsar and postgraduate level at PGI Chandigarh, punctuated with any distinctions, honors, awards and many a series of the first positions in the Punjab university.
She was awarded the best student of the year award at PGI Chandigarh. Not only this, she won many prizes in the intercollege and intercollege debates and decomation contents also she was the co-editor and editor of the college magazine at Amritsar medical college.
She has over 50 publication in the national and international journals. Also, she has presented more than 60 papers during national and international conferences. Also, she had chaired sessions and acted as a finalist in many national conferences. She has also been invited for many guest lectures by various societies and by the institute of genetics at Hyderabad. Recently she had been invited by baba Farid university and GGS medical college Faridkot to deliver the keynote address on embryology & assisted reproductive techniques.
She has attended over 30 workshops and CME's all over India and abroad. Also, she has contributed chapter to many books on the subject.
She has been a pioneer in starting colposcopy in Punjab (in 1985) for the diagnosis of cancer cervix and also hysteroscopy in 1994 at DMC&H and has conducted thesis on this subject.
She has been awarded 'MNAMS' by the national academy of medical sciences, new Delhi 1996 in recognition of her contribution to the specialty.
She was awarded the "fellowship of Indian college of abstetrics & gynaecology"(FICOG) in the year 2000. She has been nominated as the woman of the year 2000 by the American biographical institute. Also, she has been chosen for her distinguished standing in the profession and has been conferred an honorary appointment to the "professional women's advisory board" with effect from 1st September 2000 by the American biographical institute, USA.